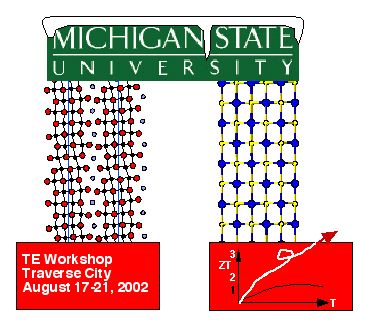 New Thermoelectric Materials Workshop
Chemistry, Physics and Materials Science of Thermoelectric Materials: Beyond Bismuth Telluride
A workshop sponsored by Michigan State University
To be held in Traverse City, Michigan
Saturday, August 17th - Wednesday, August 21st, 2002
Organizers
Mercouri G Kanatzidis
Timothy P. Hogan
S. D. (Bhanu) Mahanti
Advisory Committee
Millie Dresselhaus MIT
Frank DiSalvo, Cornell Univ.
J-P. Fleurial, Jet Propulsion Lab
Gerry Mahan, Penn State Univ.
George Nolas, Univ. of South Florida
Brian Sales, ORNL
Terry Tritt, Clemson Univ.
Purpose: To bring together people from various areas of physics, chemistry and materials science who have an interest in discovering new substances and processes for cooling and power generation. To discuss the current science and challenges facing the field of thermoelectric materials.






Topics for Discussion:

New Materials
Structure-Property Relationships
Thermoelectric Transport Theory
Measurements, devices

---
Conference Chair:
Prof. Mercouri Kanatzidis
Michigan State University

---

Conference Secretary:
Ms. Lorie Neuman
Michigan State University

---

Co Chairs:
S. D. Mahanti
Michigan State University

---

Timothy P. Hogan
Michigan State University

---
Accommodations:
All sessions will be held at the historic Park Place Hotel (photo). A block of rooms has been reserved at the hotel. The conference rate is $134 per night. Please call +1-800-748-0133 (toll-free) or +1-231-946-5000 for reservations. Tell them it is the "Thermoelectric Materials" Conference.
Schedule:
Please click here
Invited Speaker List (Partial):
Frank DiSalvo, Cornell
J-P. Fleurial, JPL
Rama Ventkatasubramanian, RTI
Millie Dresselhaus, MIT
Gerry Mahan, Penn State
George Nolas, U South Florida
Ctirad Uher, U. of Michigan
Ted Harman, MIT
John Badding, Penn State
Chen Gang, MIT
Igor Mazin
Glen Slack, RPI
Brian Sales, ORNL
Terry Tritt, Clemson
Joe Poon, U. of Virginia

Registration:

The cost to register is $200 for regular participants and speakers;
$100 for spouses or guests;
$50 for students and for post docs.

Please Register by July 1, 2002. (After July 1 the registration fee will be $250)

Click here for Registration Form.
Hotel Reservations: Please make reservations in the The Park-Place Hotel (Tel # 800-748-0133 ). Ask for the special Workshop rate of $134 per night.

Travel Information:

Traverse City is served by its own airport, the Cherry Capitol Airport, Traverse City, which is 2-miles from Downtown. The Park-Place Hotel has a complimentary 24 hour shuttle service. A courtesy telephone is located in the airport, close to the baggage claim area, which should be used to call for service. If you fly directly into Traverse City, BOOK EARLY as flights fill up and cheap seats tend to disappear early.

The nearest large airport is in Detroit which is 250 miles (~5 hour) drive from Traverse City. See here for driving instructions from Detroit. It is recommended that you arrange a connecting flight to Traverse City if they are available. Another alternative is Grand Rapids which has good connections and often cheaper prices than Traverse City. It is a 31/2 hour drive from Traverse City, driving directions available here. Driving instructions are also available from Chicago and Lansing. Car rentals are available at the Traverse City airport. There is also local transportation provided by the Bay Area Transit Authority until 8pm. The conference will finish by 9:30 am on Wednesday 21st August to allow people to return home on this day.
| | |
| --- | --- |
| Sightseeing: | Traverse City is a popular resort in the northern part of Michigan. It is located on Grand Traverse Bay of Lake Michigan. Information on sightseeing and various recreational activities is available from the Convention and Visitors Bureau, ph.(800) 940-1120. Click here for some photos of the Traverse City area. |
Proceedings:

As a condition for holding this meeting the proceedings of this workshop will be published as a volume in the Fundamental Materials Research Series by Kluwer Academic/Plenum Publishing, see http://www.pa.msu.edu/people/thorpe/fms_gen_pref.html for details.
The articles could be pedagogical in nature or review type focusing on the chemistry, physics and materials science of thermoelectric materials and techniques (both theoretical and experimental); also opinion articles offering new insights about such materials can be submitted.

The Proceedings will be published as a book in the Fundamental Materials Science series, edited by Mercouri Kanatzidis Timothy P. Hogan and S. D. Mahanti. This series is published by Kluwer Academic/Plenum and the general series editor is M. F. Thorpe. This volume will be ready around April in the following year. Manuscripts in camera ready format should be brought to the meeting. Instructions for authors can be found here.
---
Mercouri Kanatzidis S.D. Mahanti