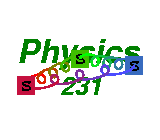 Physics 231 is a non-calculus-based general physics class, recommended for a variety of majors, such as those pursuing a pre-med education. Topics include: Newtonian equations of motion, momentum and energy conservation, rotational motion, gravity, thermodynamics and wave motion.
Printable (pdf) version of syllabus)
Lectures: 10:20-11:40, T-Th in 1410 BPS
Instructor: Scott Pratt
prattsc@msu.edu
BPS Bldg., #4208A
355-9200, x2016
Office Hours:
T-Th Immediately
after lecture in #4208A
Tuesdays: 1:00-2:20 PM, in 1248 BPS
TA: Chuan-Ren Chen
chenchua@msu.edu
Help Room, 1248 BPS Building
Hours:
Monday: 9:00 AM-12:00, 2:00-4:00 PM
Tuesday: 8:30–10:00 AM, 12:00 PM – 6:00 PM
Wednesday: 8:30 – 10:20 AM
The Cooperative Learning Center, 1248 BPS, will also be manned by two undergraduate TAs. Between the graduate and undergraduate TAs, assistance will be available in 1248 all day Monday, except from 11AM - 1PM, and all day Tuesday.
---
| | |
| --- | --- |
| | Latest news |
| | Calendar of exams and due dates |
| | LON-CAPA website for turning in homework |
| | Policies, Logistics, Formula Sheet |
| | Authors, Publishers, Edition... |
| | Scale, Weights |
| | PowerPoint Lectures |
---