INSTRUCTIONS FOR OBTAINING, REGISTERING AND USING CLICKERS
HITT hand-held transmiters (Clickers) will be used by lecture (231 not 231C) students for in-class quizzes.
Clickers may be purchased at Student Book Store for $30.
To register clickers, log onto LON-CAPA, and click on the "CLICKER REGISTRATION" link. Enter the registration number from the inside of the clicker behind the battery. For example, the number might appear in the form "DCA-0153986". Enter the numeric part of the number "0153986". (See picture below)
Clicker points will not be counted during first two weeks of class.


Clicker from the outside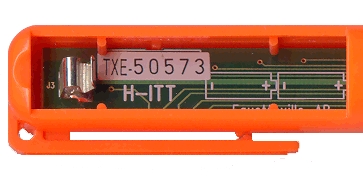 Serial number on inside of clicker
---



The new generation of H-ITT clickers have a light that flashes to signify an answer has been recorded. Both types of clickers should function well.
---
PHY 231/231C Home