From the issue dated October 22, 1999
As Distance-Learning Boom Spreads, Colleges Help Set Up Virtual High Schools
Backers say specialized on-line courses can benefit students in low-income districts
By SARAH CARR and JEFFREY R. YOUNG
Distance education might soon be as fashionable in America's high schools as cell phones and baggy pants. A growing number of colleges, schools, and companies are delivering high-school courses over the Internet.

Most of these "virtual high schools" aren't trying to replace traditional schools, however -- cyberspace isn't filling up with P.E. and band classes, at least not yet. The virtual schools focus mainly on Advanced Placement and college-preparatory courses in the kinds of subjects that many traditional high schools don't have enough teachers or money to offer. Proponents say distance education can give high-school students in poor districts opportunities for advanced classes that have traditionally been available only in upscale areas.

Students usually enroll in only one or two virtual courses, meeting the rest of their requirements in traditional classrooms. The financing of the courses varies, depending on the nature of the program: In some cases, students and parents are expected to pay, while in others, school districts or state departments of education cover the costs.

The virtual-high-school programs are so new, however, that little has been done to assess the quality and effectiveness of their courses, even when great care has been taken to produce them. And some observers worry that fly-by-night operations might emerge and try to peddle inferior courses to unsuspecting high-school students on line.

Among the states whose governments, universities, or schools have created virtual high schools are Arizona, California, Florida, Kentucky, Massachusetts, Michigan, Nebraska, and Utah. The programs transcend state boundaries, however, and many of the courses are open to students anywhere.

In some cases, universities are leading the creation of virtual high schools. For instance, the University of Nebraska at Lincoln created a for-profit spinoff, called Class.com, to sell high-school courses over the Internet (The Chronicle, April 16).

In other cases, schools or school districts are teaming up to start on-line programs. A Massachusetts-based education consortium, for example, is working with 220 high schools in 30 states to develop and share on-line courses. A number of for-profit companies are also developing or offering high-school courses on line.

Colleges and universities involved in offering on-line high-school courses say they're not interested in taking over the business of teaching younger students. Instead, they're focusing on offerings that are hard to find in many high schools: remedial courses, such as English as a second language, and courses for gifted students, such as advanced composition classes.

"We would like to help educators do their jobs better," says John A. Blair, the president of Nebraska's Class.com. "They know very well how to offer their core courses. It is in the endpoint areas that we have identified a need, and it is our intention to help educators solve that problem." Mr. Blair hopes that Class.com courses and curricula will help high schools deal with other problems as well, such as teacher shortages and over-enrollment.

Raymond Ravalgia, the deputy director of Stanford University's Program for Gifted Youth, agrees that colleges should play a role in providing courses in specialized areas. He says both high-school teachers and textbook publishers frequently are unable to provide adequate resources for gifted students.

"Textbook publishers develop their materials geared at some conception of the average student," he says. "They are generally not interested in micro-niches of students, so this is some place natural for universities to step in."

In the Stanford program, which began in 1992, grade-school, middle-school, and high-school students can take a range of advanced courses, including some for credit at the university. The students and their families pay for the classes in the majority of cases, with some opportunities for financial aid, but Mr. Ravalgia hopes that ultimately more schools will offer to pay for the courses, which typically cost $435 per quarter.

At the University of California, officials created an on-line high-school program to help level the playing field for the state's students. Students applying to attend the university's campuses are ranked for admissions purposes on the basis of grades and standardized-test scores using a point system, and those who have taken honors and advanced-placement courses are awarded additional points. But high schools in some areas don't offer honors or A.P. courses, leaving their students at a disadvantage.

"What we are trying to do isto make Advanced Placement courses available to students who otherwise wouldn't be able to take them," says Elaine Wheeler, the project director of the University of California College Preparatory Initiative. "Our philosophy is that nothing beats a quality teacher teaching good curriculum to students in a classroom, but we are trying to provide something where nothing is currently happening."

This semester, the university system is offering courses such as A.P. calculus, honors psychology, and microeconomics to students at 27 high schools. The program is supported by a $4-million allotment from the state. Organizers of the College Preparatory Initiative also hope that the students who are accepted to the university will be better prepared for college-level work as a result of the on-line classes. Brad Huff, the science coordinator at the Fresno County Office of Education, says that this fall, 24 high-school students in the county are taking an A.P. chemistry course offered through the Universityof California programs. Students from the Fresno schools study, communicate, and take tests completely on line, and meet once a month for hands-on laboratories.

Mr. Huff says he hopes such courses will help lessen the disparity between class offerings at large and small schools, and help more students from the region gain admittance to the university..

Meanwhile, some high schools are working on their own to provide distance education.

One of the largest school-sponsored efforts is the Virtual High School, run by the Concord Consortium in Massachusetts (http://vhs.concord.org/). The non-profit group is working with about 220 high schools, though only 110 of the schools are currently offering courses. The effort is financed by a five-year, $7.8-million grant from the U.S. Department of Education.

Participating schools must develop and teach at least one course on line, in exchange for which their students can take on-line courses from other member schools. Bruce F. Droste, director of the Virtual High School, calls it "the barter system for education."

Teachers must take a 26-week training course -- on line, naturally -- before they are let loose in a virtual classroom. Mr. Droste says that the cooperative effort allows a high-school teacher to design and deliver a "dream course" on a subject of personal interest. Courses on ethnobotany, A.P. statistics, or American popular music might not be in enough demand at a single school, but they can fill up quickly on line. Class size is capped at 20 students.

Companies are also looking to cash in on distance education for high schools. APEX Online Learning, for instance, focuses on creating and delivering Advanced Placement courses on line (http://www.apex.netu.com/). The company, started by Microsoft cofounder Paul Allen, offers only four A.P. courses so far -- calculus, statistics, microeconomics, and U.S. government. Bryan Barnett, the company's chief academic officer, says more courses are in development. Each costs $395.

The company isn't an accredited high school, so it can't grant academic credit for its courses, though students are free to take A.P. tests in hopes of receiving college credit for their work. And APEX is working to form partnerships with high schools and colleges under which those institutions would grant credit for APEX courses. Last month, APEX officials forged such an arrangement with Michigan Virtual University, for instance.

Another company, Archipelago Productions, is developing materials for on-line high-school classes (http://www.archipelago.com). The company does not deliver courses on its own, but instead sells its materials to high schools or colleges that want to use them. It is a division of Harcourt General, the textbook and trade publisher.

What concerns some school officials and others is that the possibility of profits might also attract questionable operations. The College Board, which creates and administers the A.P. tests, is particularly concerned that companies could promote on-line courses as preparing students to take A.P. tests.

Says Lee Jones, executive director of the A.P. program for the College Board: "It makes me wonder to what degree the College Board needs to be involved with determining standards for delivery. If people are going to use the A.P. name, we want to have some mechanism in place to measure quality." Mr. Jones also says that the board is now considering whether it should offer its own A.P. courses on the Internet (The Chronicle, October 8).

Some aspects of a high-school education, such as science laboratories, are more difficult to replicate in cyberspace than others.

For one of the Virtual High School's courses in physics, the school mails students laboratory kits so they can perform experiments in their schools or homes. "We went out and bought a lot of large fishing-tackle units" to package the kits, says Mr. Droste. The kits include various tools and instructions for doing the labs. At other virtual high schools, students must come to campus for a weekend to complete the laboratory requirements of science courses.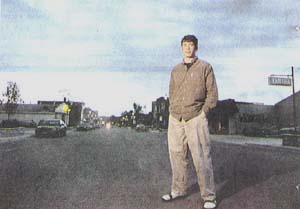 Some educators are trying a different approach -- setting up virtual laboratories. Wolfgang Bauer, a physics professor at Michigan State University who is teaching an on-line A.P. physics course this semester, is creating interactive simulations for it, including a Java program that shows students a video of a computer being thrown off of a building.

Students can stop the video at any point and find out the speed and height of the falling object at that instant. Students are asked to plot this data and compute gravity's influence on the object's acceleration.

"I think that's a very valid lab experiment," says Mr. Bauer. "The only thing they don't get is the satisfaction of dropping the computer five stories and smashing it themselves."

He argues that virtual labs can actually provide better training than can a traditional laboratory. These days, even physicists do much of their work with computer simulations, Mr. Bauer adds.

One of the students in the course, Brian McNeil, says that so far the on-line labs have served their purpose. "They are quite simple by definition -- the concepts they explain are simple, and not difficult to understand in the abstract," he says. He adds that he may miss having real lab sessions "later on, when the subject matter turns to thermal physics, electricity, etc."

Mr. McNeil's only complaint so far is that the course is too easy, covering concepts he had encountered earlier, in an independent-study course. "I expected it to be rather more difficult than that," he says, "given that it is the on-line version of a 200-level physics course at a large university."

One college admissions official says she hopes the additional options don't add too much to the pressure on high-school students.

"The bar is already so high for students," says Robin G. Mamlet, the dean of admissions at Swarthmore College. "One worries that all this will do is add to their burden, and they will not only take courses at school, but also on line. There is a joyless drudgery in taking as many courses as possible."

Ms. Mamlet acknowledges that on-line courses will be a boon to students who do not have access to A.P. and honors classes, or who want to take courses their schools do not offer. She said she would be wary, however, if a student opted for an on-line course instead of taking a traditional course that seemed more challenging.

"If a student chooses not to take the harder courses when able to do it face to face, but takes them on line, that would be an issue I would want to explore," she says.

Most leaders of the on-line programs don't intend their courses to make face-to-face interaction obsolete. But the director of Christa McAuliffe Academy -- a private, accredited, on-line school based in Washington -- says he hopes to present students with a viable alternative to more-traditional schools, even requiring courses like P.E.

The director, Glen Blomgren, says he's spent 10 years working to have Christa McAuliffe accredited as a degree-granting, distance-learning program, and now he wants to make the curriculum "available to the masses." Currently more than 300 students are enrolled at Christa McAuliffe.

"My plan is to be serving a million students within five years," he says. "We feel like we are poised on the edge of a huge explosion with this."


---
http://chronicle.com
Section: Information Technology
Page: A55
---
Copyright © 1999 by The Chronicle of Higher Education
Posted with permission on http://theo08.nscl.msu.edu/
This article may not be published, reposted, or redistributed without express permission from The Chronicle. To obtain such permission, please send a message to permission@chronicle.com. For subscription information, send a message to circulation@chronicle.com.