SECTION 1
Title 1
Title 2
Title 3
Reference Pages
Index
UNIX commands
Physical Parameters
Conversions
Title 2
Title 3
Links
Astronomy Picture of the Day
Movie Reviews
Hubble Photos
Title 4
Title 5
Truly Personal Items
Top Ten Lists
Amateur Astronomy
Family Pictures
Links
EWB - MSU
Title 6
<![if !supportEmptyParas]> <![endif]>
What collection of web pages would be complete without some personal information about the author?
I was born in Washington, D.C. and spent the majority of my youth in the suburbs of our Nation's Capital. Not having central air in our home, I spent a fair bit of my summers in the museums. It was a wonderful experience having free museums at my doorstep and once the subway reached Bethesda, MD, I was downtown as often as I could.
I started off my college years being wholly committed to majoring in Special Education. Before going to college, I had worked for several summers at a camp outside of Winchester, VA and as a teacher's assistant in two public schools. However, before I even began a professional career in the field I experienced the "burnout" that I had seen overcome many of my friends. It is exhausting and emotionally draining work.
The shift to the sciences was easy to effect. I had always been interested in science, despite the experiences that I had with many of my science teachers in high school (zzzzz). Although Antioch College is not much of a science school, I was able to take advantage of the National Science Foundation's summer programs and gain experience at several different universities (hats off to the NSF). There was, however, one distinct advantage to being one of the few science majors at Antioch -- one had the professors all to themselves. One of my fondest memories has to do with an "it can be plainly shown that ..." statement that arose in one of my Quantum Mechanics textbooks. Bill Whitesell and I spent the better part of a class period and four chalkboards filling in the details. Anywhere else and I feel that I would have been told to "shut up and get on with things".
<![if !supportEmptyParas]> <![endif]>
To be continued ….
<![if !supportEmptyParas]> <![endif]>
<![if !supportEmptyParas]> <![endif]>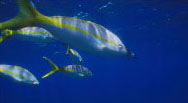 Still working on this
Ut wisi enim ad minim veniam, quis nostrud exerci taion


and this
Ut wisi enim ad minim veniam, quis nostrud exerci taion

and this …
Ut wisi enim ad minim veniam, quis nostrud exerci taion

<![if !supportEmptyParas]> <![endif]>

<![if !supportEmptyParas]> <![endif]>

<![if !supportEmptyParas]> <![endif]>

<![if !supportEmptyParas]> <![endif]>

<![if !supportEmptyParas]> <![endif]>

<![if !supportEmptyParas]> <![endif]>

<![if !supportEmptyParas]> <![endif]>

<![if !supportEmptyParas]> <![endif]>

<![if !supportEmptyParas]> <![endif]>

<![if !supportEmptyParas]> <![endif]>

<![if !supportMisalignedColumns]>