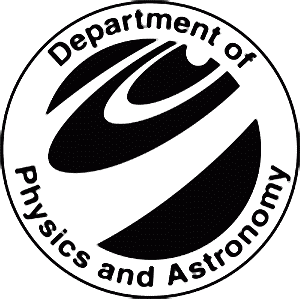 Spring 2011 Colloquium Schedule
Colloquia are presented at 4:10 pm on Thursdays in 1415 Biomedical & Physical Sciences Bldg.
Refreshments are served at 3:30 pm in 1400 Biomedical & Physical Sciences Bldg.
Date
(2011)

Speaker's
Institution

Title

Speaker
Schedule

Local
Host

January 13

APS Meeting no Colloquium

NA

January 20

MSU

Using Ph183 to design the Spartan Infrared Camera for the SOAR Telescope

January 27

Cornell

Changing Dielectrics Into Multiferroics- Alchemy Enabled B Strain

February 03

University of Western Ontario

R&D in Green Energy & Green Manufacturing Technology at the University of Western Ontario

February 10

February 17

NASA

A New View of the High Energy Gamma-Ray Sky with the Fermi Gamma-Ray
Space Telescope



February 24

MSU-NSCL

Reaction Theory For Studying Rare Isotopes The Missing Piece of the Puzzle

March 03

No Speaker

March 10

** Spring Break: no colloquium **

March 17

Harvard

A half-Century Quest to Measure Einstein's Prediction of Frame Dragging

March 24

APS Meeting

No Colloquium

No Colloquium - APS March Meeting

-

March 31

Harvard

The Competitive Landscape of High-Tc Superconductivity

-

April 07

Univ. of Minnesota

No Success Like Failure …': Einstein's Quest for General Relativity, 1907–1920

April 14

Columbia

Lattice QCD in the Age of Smartphones

-

April 21

Boston University-

Liquid Water, the Most Complex Liquid:
New Results in Nanoconfined and Biological Environments

April 28

Caltech

Superconductivity versus the Quantum Hall Effect -
Map to the BioMedical & Physical Sciences Building
Building accessibility information
---
For travel arrangements, reimbursement questions or to make an appointment with the speaker
please contact Shawna Prater (884-5601 or prater@pa.msu.edu).
If you would like to attend lunch or dinner with the speaker please, contact the local host via email.
---
Page is maintained by: Shawna Prater