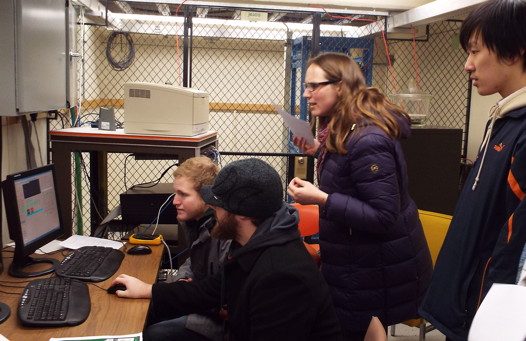 Student Research at the Observatory
Do students use the observatory in classes?
Yes, as part of AST 208 ("Planets and Telescopes"), students get hands-on experience obtaining and analyzing data from the observatory.
Can I get involved with research at the observatory?
Yes! Many undergraduates have completed research projects at the observatory. This is often done as part of AST 410 (astronomy senior thesis), which fulfils the University's Tier II writing requirement. Contact if you are interested.
What are some examples of student research projects?
Past student projects include monitoring the pulsations of stars, and photometry of supernovae.
What sort of instrumentation is the 24-in equipped with?
The telesope currently has both an eyepiece and a CCD camera with a 10 arcminute field of view. Plans are in the works to add a spectrograph.
Did you know?
There have been more than 25 papers published based upon observations with the MSU 24-inch telescope. Many of these papers were coauthored by students.
Click here for a sample publication list (NASA ADS link).