MANUFACTURING OF EFFICIENT PLASTIC DEVICES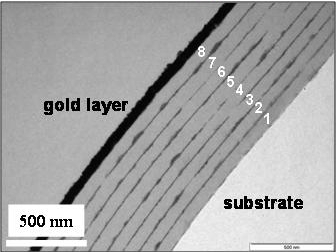 We have demonstrated facile self-assembly of multilayers, which in the TEM above consists of CdSe quantum dot layers (dark) and Polystyrene (light)
Recent Publications
General strategies for nanoparticle dispersion:
Mackay, Tuteja, Duxbury et al. Science 311, 1740-1743 (2006);
Self-assembled multilayers of nanocomponents:
Krishnan, Mackay, Duxbury et al. Nano Letters 7, 1276-1281 (2007); Mackay et al. - Patent pending
We use control of nanoparticle self-assembly to design and fabricate improved organic supercapacitors, fuel cells and solar cells.