---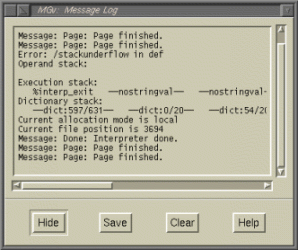 All messages from Ghostscript are stored in a log dialog. By default this dialog is not visible but may be viewed at any time using the Hide Log entry in the View Menu. The hideLog application resource may be used to alter the default behavior for all instances of mgv and the -log and -nolog command-line switches (see Command Line Switches) may be used to alter the default behavior for a single execution. The message log is also used to display errors from the Ghostscript interpreter. If there is an error, the log will automatically pop up.
The log dialog consists of the following widgets:
A Scrolled text region for displaying the messages. The text widget is editable so you are free to add notes if you find a bug in mgv, Ghostscript, or someone's PostScript program.
A Hide button for popping down the log until an error occurs or you explicitly request its presence again.
A Save button for saving the current contents of the log to a file. This button will activate a standard file selector to ask for the filename.
A Clear button for emptying the log.
A Help button for requesting help on the log dialog.
---